Attending Anime Conventions for more years than you can remember, or just your 1st time experiencing the magic and mischief of it all. Kumoricon's 2012 retrospective panel is something all attendees can enjoy. After attending Sakuracon and recognizing that the Portland, OR / Vancouver, WA metro area NEEDED a dedicated Anime Convention, a handful of students got together, and thus Kumoricon was created and got its start November 29, 2003 in Springfield, OR. 2012 being Kumoricon's Tenth Anniversary, there were a plethora of events and memories that everyone can share or reflect upon in its history. It was interesting to hear all the hardships and intricate planning that the staff had to undergo to get Kumoricon up and running and continuously improving upon itself throughout the years.
Although most of these obstacles probably gave most of the staff headaches and a dose of stress at the time, they have now become comedic tales of grandeur. Being fairly new to Anime Cons in general, what I found charming about this panel was all the hilarious hijinks and events that most people may have missed in between and behind the scenes. One of them involves a running gag that trolls a particular staff member with various Barbie doll paraphernalia. Each year his Manhood is demoralized by the various Barbie related gags that appear when he least expects it. Sadly for him, and a delight for everyone else, the culprit or culprits have yet to be identified and caught! There is another story about a large stuffed duck named Kamo Momo that would mysteriously appear at a different staff member's door. Later this duck prank would evolve into a traveling adventure where people would take pictures of Kamo Momo at different conventions and post its pictures to its Facebook page! Kamo Mamo's current whereabouts are unknown, so if you or anyone you know has any information that can lead to Kamo Mamo's safe return to Kumoricon! Please respond in his Facebook page or contact Kumoricon staff!
Kamo Mamo's Facebook page!  https://www.facebook.com/KamoMomo?amp%3Bref=ts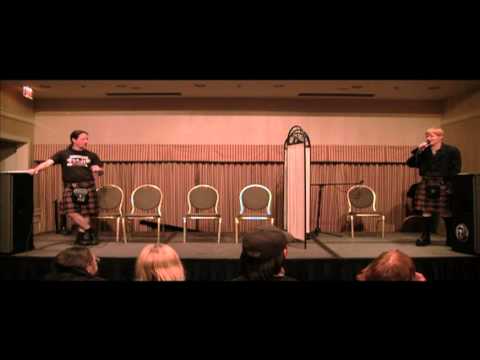 Anyways, I can go on about all the other stories that were presented, but I find hearing it from someone who experienced it first hand with their own passionate words would do it better justice than anything I can write. You can see just how precious these memories and times were for many of the people that attended past Kumoricon's. Some people found adventure, that rare manga, friendship, and even the love of their life. So by the end of this panel, it gave you that warm and gooey feeling inside like everyone was family! So come out to the next Kumoricon and build your own memories to share with a new family!